[Ah, good to be reviewing a 3DO RPG at last. Sorry about the less than outstanding screenshots; I didn't feel like going through the whole game on an emulator just for the sake of getting screenshots. I think I'm ready to tackle Snow Job next.]
I love Micro Cabin. While none of their games that I've played is a masterpiece, neither are any of them less than excellent. And there's a style to their work which sets it apart from typical JRPGs, in some cases feeling more American than Japanese.
Probably the first thing you'll notice about this particular Micro Cabin game is what a strong demonstration it is of the 3DO's prowess. No, it doesn't do much with the console's then-vaunted FMV capabilities, containing only intro and ending FMVs, both pretty drab in quality. What it does is show off its 3D capabilities to an extent that is fairly startling. The playable characters look cutesy (as can be seen on the cover), but they're smoothly rendered, and the scenery and enemies are anything but cute. Each action in combat is accompanied by a slick animation (though you can turn animations off), the individual locations have cool touches like waves lapping at the shore, and there are even clouds passing over the world map!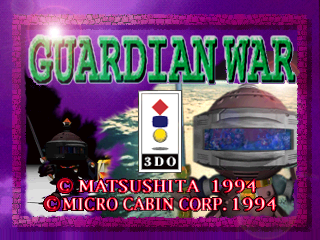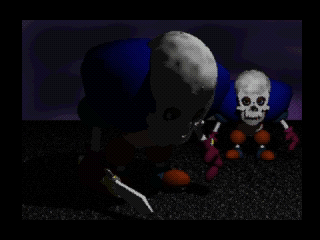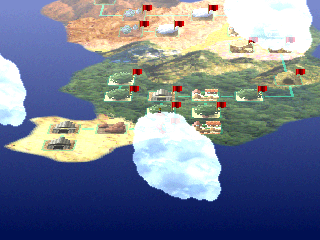 Underneath such graphic power and attention to detail, there is strong substance, too. While basically a Tactical RPG, it borrows a couple elements from dungeon crawling, and unlike every other Tactical RPG in history, it uses an over-the-shoulder 1st person perspective instead of an overhead view. This would be a major gaff if the usual large-scale battles were in store, but they're not. On each battle map, enemies are spread out in bands of 2-7, and approaching a band initiates a discrete encounter, like in a traditional RPG. While wandering during an encounter can draw other bands into the battle, in practice this won't happen unintentionally.
Between encounters, your party moves as a single unit, and you can open treasure chests. It's unfortunate that Micro Cabin couldn't think of anything else for you to do, particularly since you aren't allowed to equip items on a battle map, which takes all the excitement out of obtaining a new item. But the unique approach to the battles is enough. Since you can see where your enemies are simply by opening the map (and there's also a handy mini-map in the corner, a la Slayer), you can choose which way your troops approach them, and in what formation. The right tactical approach can limit the enemy's ability to strike first, and even determine the outcome of an encounter.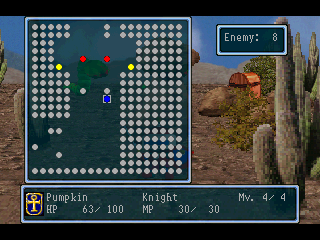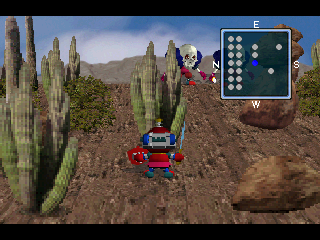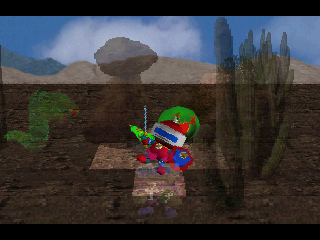 Another excellent twist is that menu options aren't just for magic users. Each character class has 1-3 moves to choose from, and a character can bear up to three classes at a time (though unless you take up grinding, it's best to have each character specialize in two classes). Each of the nine starting character classes can eventually be pomoted to one of two advanced classes, for a total of 18 advanced classes - a real boon to the replay value. And in another touch of the unusual, a character with remaining movement range can continue to move after attacking, allowing you to set up hit-and-run attacks.
The game's main trouble is its lack of balance. Some character classes are essentially useless. For instance, the three knight classes are strong enough, but their limited mobility compounded by total lack of ranged attacks means that even when you put them in the front lines, they rarely get to attack. The spells wielded by the shaman classes can damage multiple enemies at once, but only take away a fraction of their HP. When the worthwhile characters are routinely scoring OHKOs, this makes it very hard for a shaman to get the kills he needs to gain EXP. And while the neptune class dominates the two underwater battles, the fact that it can only move one space at a time on dry land makes it useless everywhere else.
Then there's the odd fluctuations in the difficulty curve, one of many ways in which Guardian War is similar to Micro Cabin's Tactical RPG for the Saturn, Mystaria/Blazing Heroes. While these are bearable, they make the game a less elegant experience than it could have been.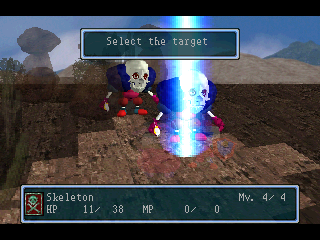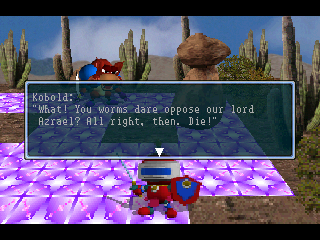 But though the game is unbalanced, the challenge in general is just about right, forcing you to think about each move without forcing you to bang your head against a wall. Combat is complicated by the presence of floor tiles which cause units standing on them - friendly or otherwise - to recover HP, lose HP, or even be prevented from casting spells, depending on the pattern of the tile. And for help getting through trouble spots, certain pairs of characters can use powerful combo attacks.
Outside the battle maps, you wander the world map. The game is mostly linear, but there are optional battles and the occasional shop to upgrade equipment at. There's precious little story, not even a protagonist in the traditional sense. You control a team of faceless golems which are awakened, one-by-one, by the goddess of good to vanquish the god of evil. (And I do mean faceless; a golem's appearance is determined solely by what primary class he has equipped at the time.)
There's certainly nothing wrong with this story, but I feel Micro Cabin lost an opportunity by not coming up with something more complete. The golems travel through a breathtaking variety of settings for combat - beaches, forests, shrines, volcanoes, and even the belly of a whale - and these would be more involving if there were more story behind what these places are, why you're traveling through them, and who the characters are making the journey.
And now, the minor stats and the final judgment:
Graphics
9/10 - Gorgeous 3D effects, lush and varied battlegrounds, striking enemies
Sound
7/10 - Soundtrack is strong and involving, voice acting is passable but accompanied by irritating white noise
Longevity
8/10 - Runs a good 30 hours, and there's hidden areas and countless party combinations to try when you come back to it
Scenery
9/10 - This game really looks like a journey into another world
The 3DO's library may be known for experimental and bizarre titles, but Guardian War is a very solid meat-and-potatoes Tactical RPG, with enough twists in the formula to keep it from being generic. Gamers without a particular liking for RPGs will most likely find Guardian War too difficult and slow, but if RPGs are your bag than you should certainly give this one a try.