Hello,
Seems like a lot of people are interested to make 3DO games and don't know how to do it.
Hopefully this will help them.
WARNING : This tutorial is not for complete beginners.
Before we start , download this :
http://goo.gl/bTOZjm
What is it ? Well that's the Invades example by cdoty but modified to work with Topper's new graphics library.
Extract it and put it somewhere. (It doesn't matter where)
Then you need to have the ARM SDT 2.5 compiler.
Don't have it ? Google it.
Then install the ARM SDT here : C:/ARM250
Once it is done, download the
3DODev pack
and put the folder 3DODev in C:/.
Now back to the example you extacted.
Run Make_and_pack.bat. (double click on it)
After compilation is done , press enter and OperaFS will open.
Press on the button "Compile Iso" and choose the CD folder.
Name your iso file invades.iso and put it where the "Make_and_pack.bat" file is.
After that , start Encrypt.bat.
This will encrypt the iso in order to get it to work on a real 3DO.
(except the Goldstar ones because they suck and they can only read some brands and only pressed CDs.)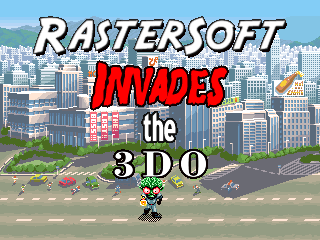 You can then run it with any 3DO emulator. (Like 4DO for example)
I have also provided some experimental functions to play music and sound effects.
They are not without issues however.
Playing Music will freeze one frame out of the 60 frames per second.
As for the sound effects , make sure they are small.
(or increase NUMBLOCKS_SND to 16 if you don't use music)
Happy coding !